Background
The Urban Land Division was formed in 2008, pursuant to the enactment of the Land Act 2007, for management and administration of registered land in urban areas. Prior to the enactment of the Land Act 2007 these responsibilities were vested with concerned Thromdes and the Ministry of Works and Human Settlement.
Each Thromde had their own Thram formats and land conveyance procedures. The Urban Land Division has standardized all urban Thrums and land conveyance procedures in line with the Land Act. Standard Lagthrams were issued in 2009.
Some of the main achievements of this Division are coordinating cadastral resurveys in four Thromdes and resolving numerous land disputes and pending cases through 14 rounds of High Level Committee Meetings instituted as per the command of His Majesty the King.
Mandates and functions of Urban Land Division
Mandates
Manage, regulate and administer urban land
Functions
Custodian and management of urban Sa-Thrams
Carry out land conveyances through inheritance, sale-purchase, gifs, exchange, etc.
Issue Lagthrams
Implement Royal Kashos and Commands
Process private land acquisition
Process land compensations and land substitutes
Regulate land use regulations
Maintain land mortgage record and guarantee liens
Verify and resolve land issues, record discrepancies and disputes
Submit reports on land issues to the Commission
Verify and resolve excess-deficit and land use conflicts
Submit reports to the Courts and implement verdicts
Core products and services
Products
Thromde Sathram
Lagthrams
Proof of landownership for visa processing
Services
Land transactions
Thromde Sathrams management
Processing private land acquisitions for national interests
Processing land substitutes and compensations
Processing land allotment to Government Agencies and Religious Institutes
Field verifications for resolving discrepancies
Implementation of the decisions of the Commission and Dispute Settlement Committee
Implementation of the directives received from the Office of the Gyalpoi Zimpon
Customers
Internal
i. Cadastral Information Division (providing Thram details)
ii. Legal Section (providing Thram details)
iii. Rural Land Division
iv. Dzongkhags
v. Thromdes
vi. Ministry of Works and Human Settlement
vii. Ministry of Economic Affairs
External
i. Thram holders
Delivery of products/services to the customer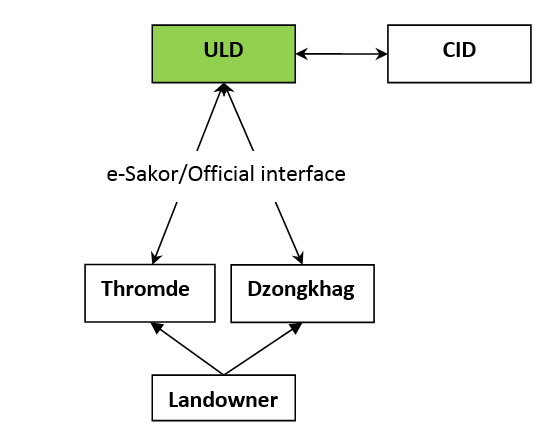 Key stakeholders
i. Courts
ii. Dzongkhags
iii. Thromdes
iv. Financial Institutions
v. Ministry of Home And Cultural Affairs
Organizational structure

Strengths, weakness, challenges in delivering the services and products

Linkage of service/products to the overall vision, mission of NLC
Rendering efficient and effective services and ensuring security of land tenure are linked to good governance