Background
Topographical Survey Division is the Geodetic Agency and the main producer of national spatial data infrastructure. It also validates national horizontal and vertical datum. It ensures accuracy and strengthens surveying techniques and technologies, creates up to date and accurate fundamental geospatial data and topographical database.
Mandates and functions of Topographical Survey Division
Mandates
Topographical, geodetic, geophysical surveys and calibration of instruments
Functions
Define and maintain National Coordinate System.
Establish, validate and archive the National Geodetic network of horizontal and vertical
control points.
Provide secondary and tertiary control points.
Carry out topographical surveys (Photogrammetry and Remote Sensing, and Terrestrial
survey).
Update Fundamental Geospatial Data.
Demarcate and delineate administrative boundaries and Provide technical support to IB.
Maintain inventory and carry out calibration of surveying instruments
Carry out geospatial works on the paid basis
Acquisition and processing of satellite imageries/aerial/terrestrial photographs
Provide technical advice with regard to surveying and mapping ensuring standards.
Core products and services
Products
Digital Topographical Maps
Ground control points
Height benchmarks
Digital Elevation Model (DEMs)
Thematic Topographical Maps
Image maps
GNSS data
Services
Geodetic Surveying
Topographic Surveying
Calibration of Instruments
Provision of ground control points
Provision of height benchmarks
Administrative Boundary demarcation
Geodetic and geophysical surveys
Topographic surveys
Engineering surveys
Photogrammetric processes
Production of topographic, thematic and orthophoto maps
Customers
Internal
i. Divisions
ii. International Boundary
iii. Dzongkhags and Thromdes
External
i. All the ministries
ii. DGPC
iii. DHPS
iv. DDM
v. ECB
vi. NSB
vii. Individual land owners
Key stakeholders
i. Divisions
ii. Local Government
iii. Courts
iv. Anti Corruption Commission
v. Royal Bhutan Police
Organizational structure

Strengths, weakness, challenges in delivering the services and products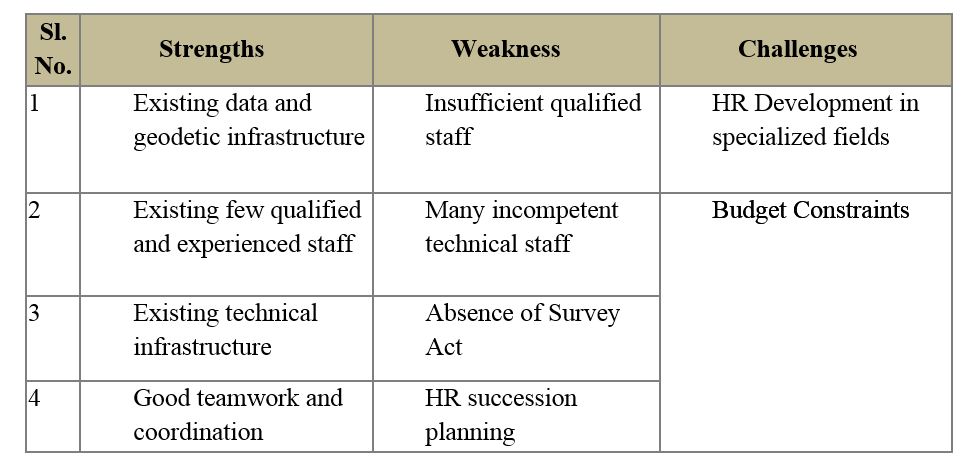 Linkage of service/products to the overall vision, mission of NLC
State-of-art technology for efficient service delivery
Geodetic infrastructure and fundamental data for land management