Background
The Center for GIS Coordination (CGISC) is an independent unit in NLCS operating under the Department of Survey and Mapping (DoSAM). It serves as the coordination center to develop, promulgate and enforce bylaws, regulations and standards covering all aspects of geo-information. CGISC is a collaboration of multidisciplinary expertise and resources from various GI data producing agencies and end users. Realizing Geospatial Information as an indispensable tool for proper planning and decision-making process, the RGoB approved the Geo-Information (GI) Policy published by NLCS in July 2018. Hence, Geospatial Information is recognized as an important aspect in realizing GNH goals. The policy is found on the fundamental principles of availability, reliability, accessibility and affordability by reducing duplication of efforts and cost in gathering GI data and by enhancing capacity to keep abreast with rapid changing technology.  The key objectives of GI policy include (1) instituting an inclusive institutional and legal framework; (2) to ensure availability of reliable geo-information; (3) to enhance data discovery, accessibility and sharing mechanism without duplication or silos in operation and (4) to promote sustainable and optimal use of geo-information and technologies. By implementing GI policy, CGISC aims to facilitate GI users across the country through a common Geo-portal serving as a single and seamless point of access to Geo-information for all GIS users as well as policy makers in the country. The Geo-Information services availed by CGISC will benefit GI producers and end users in the country in implementing policies and plans contributing to national socio-economic development. The policy mandates CGISC to spearhead the development of National Spatial Data Infrastructure (NSDI) for Bhutan. The realization of Bhutanese NSDI will enable us to reap the full potential of geospatial applications in the country.
 Mandates and Functions of CGISC
Mandates
CGISC is responsible for implementing the strategies, plans and programs aimed at achieving reliable Nationwide GIS infrastructure in Bhutan covering all aspects of Geo-Information. In other words, the primary mandate the Center for GIS Coordination is to spearhead the development of NSDI for Bhutan and implementation of GI Policy. The CGISC shall achieve its mandates through the contribution of all member agencies.
Functions
Host and facilitate the activities of the GHLC.
Organize the meetings of the GHLC and the other working groups on a regular basis, as decided in the meetings or as per the need basis.
Spearhead in preparing Five-year plan (FYP) related to Geo-Information.
Spearhead the development of NSDI in the country.
Facilitate the use of GIS software to GI users in the country.
Update, administer and maintain Geo-portal.
Organize and conduct workshops/seminars and conferences which will provide exposure to the GIS user community in Bhutan.
Coordinate GIS activities among CGISC member agencies during national emergencies.
Develop Terms of References for Focal person.
Provide technical support and guidance to all GI users and help develop its capacity.
Explore and collaborate with Regional and Global Community of GIS Professionals for strengthening NSDI.
CGISC office (CGO) is responsible for the security of the Geo-portal.
Maintain the correspondences and files pertaining to the activities of the GHLC and other constituted working groups.
It shall bring out the policy recommendations on Geo-Information issues.
Initiate the formation of TWG and committee as and when necessary.
Core Products and Services
Organization and Coordination among CGISC member agencies
Facilitation of Geo-spatial information
Facilitation of GIS and RS software including installation and updates to GI users.
Technical support and guidance to GIS user across the country
Formulation of Rules and regulation related to GI.
SOP's related to GI
Renewal and update of GI proprietary software.
Update and validation of Geo-portal Data.
Update of metadata.
Maintenance of Geo-portal
Facilitate in-house meetings workshops, seminars, conferences with internal and externals technical experts in geo-information.
Facilitation of GI to researchers and students
Renewal and update of GI proprietary software.
CGISC Member Agencies
The member agencies comprise of representatives from various ministries, departments, autonomous agencies, corporations, NGOS and relevant divisions of some agency.
National Land Commission (NLC)
Geo-Informatics Division
Topographical Division
Cadastral Division
Gross National Happiness Commission (GNHC)
Ministry of Works & Human Settlement (MoWHS)
Department of Human Settlements (DHS)
Department of Roads (DoR)
Ministry of Agriculture and Forest (MoAF)
Department of Livestock (DOL)
Department of Forest and Park Services (DoFPS)
Research and Statistical Division (RSD)
National Soil Service Center (NSSC)
Forest Resources Management Division (FRMD)
Ministry of Economic Affairs (MoEA)
Department of Geology and Mines (DGM)
Department of Hydro Power System (DHPS)
National Center for Hydrology and Meteorology (NCHM)
Department of Renewable Energy
Ministry of Information and Communication (MoIC)
Department of Information and Technology (DIT)
Ministry of Home and Cultural Affairs (MoHCA)
Department of Culture (DoC)
Department of Disaster Management (DDM)
Ministry of Education (MoE)
College of Science and Technology (CST)
Jigme Namgyel Engineering College (JNEC)
Royal Thimphu College (RTC)
College of Natural Resources (CNR)
Sherubtse College
Ministry of Health (MoH)
Thromde
Thimphu Thromde
Phuntsholing Thromde
Gelephu Thromde
Samdrup Jongkhar Thromde
Autonomous Agencies
Election Commission of Bhutan (ECB)
National Statistical Bureau (NSB)
Royal Audit Authority (RAA)
National Environment Commission (NEC)
Corporations
Bhutan Power Corporation Limited (BPCL)
Bhutan Telecom Limited (BTL)
National Housing Development Corporation Limited (NHDCL)
Natural Resources Developmental Corporation (NRDCL) 
NGOS
World Wildlife Fund (WWF)
Royal Society & Protection Nature (RSPN)
Customers
Internal
All relevant Divisions and Sections of NLCS
Dzongkhags and Thromde
External
CIGISC Members
ALL GI users across the country
Students and researchers
International Organizations
Key Stake Holders
CGISC Members
All GI Producers

Organizational Structure of CGISC Office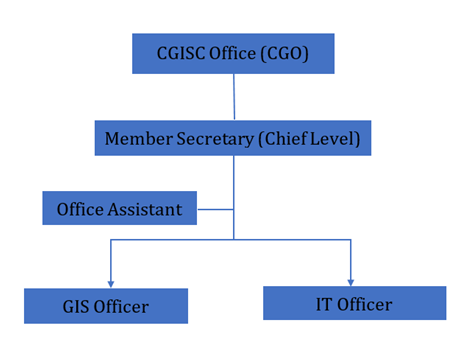 Strengths and weakness of CGISC